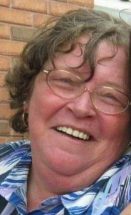 After a short illness, Wanda Bridger (nee Harnum  (1959-2020)  passed away peacefully Sunday May 10, 2020 at the Mississauga Trillium Partners hospital at the age of 61.  She is survived by her soul mate and husband of 42 years Newman, her treasured son Trevor and Jackie, her mother Agnes Harnum and father Jack Harnum (predeceased), her sisters Gail Harnum , Valerie McCarthy (Gerald) and her extended nieces and nephews.
Wanda will forever be remembered for her sense of hurmor, her jovial disposition and for her strong willed determination.  She was loved by everyone she met and was on a mission to make your day just a little brighter, willingly or not.  She would never fall short to tell you a story about someone in her family and in return, you received the sense of adoration she had for each and everyone of them.  She was a homemaker for most of the duration of her life and she wouldn't have had it any other way.  She loved to do all types of crafts as well had a huge passion for reading.  She has also now joined with her beloved dogs, Zack & Sasha.
She will be interred with her father at Beechwood Cemetery at a later date, to be announced.