Pre-Planning Your Cremation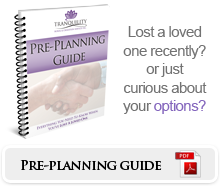 Many people feel uncomfortable just thinking about funeral arrangements, let alone calling up a funeral director and making pre-arrangements for cremation. At Tranquility, we understand. Pre-planning your cremation gives you and your family peace of mind, in so many ways.
With Tranquility, you can choose from a number of affordable cremation arrangements now, without emotional pressures or time constraints. Pre-planning and pre-arranging your cremation has many advantages:
You'll have peace of mind, knowing that your personal wishes will be carried out
Your arrangements will reflect your beliefs and values
Your family won't have to make difficult decisions during an already stressful time – every detail will already be taken care of

Cremation pre-arrangement can include aftercare – Tranquility files all necessary government paperwork
Thanks to pre-payment, money won't be a worry, either
You save money, by paying at today's prices
There are no hidden costs in our Prep-Planning
Unlike some funeral service providers, Tranquility always presents all prices completely up front, covering everything from the simplest to the most elaborate cremation options.
You can decide to include a memorial service at a chapel, church or gravesite. Or you might prefer direct cremation, with no service at all. You may then wish to have ashes buried, placed in a mausoleum, scattered or kept in an urn.
Did you know you don't even need to purchase an urn when you choose cremation? You may wish to stay with the simple container provided by the crematorium. However, if you do wish to select an urn, Tranquility can offer you a wide selection of customizable designs.
As you can see, there are many details involved in making cremation arrangements. That's why we invite you and your loved ones to contact Tranquility to discuss cremation pre-planning.