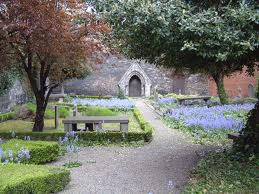 If you wish to combine cremation with a traditional cemetery burial, Tranquility can help you make those arrangements.  In Ontario, cremation providers like Tranquility are prohibited by law from selling cemetery plots. You will have to purchase a plot directly through a cemetery.
However, thanks to our many years of experience, we are familiar with all the cemeteries in our area and can advise you on pricing and other consideration. This is much easier than having to phone various cemeteries yourself, one by one.
If you wish, we can even accompany you to your appointment at the cemetery offices.
After you have selected a burial location, you may either transport the ashes yourself (in the simple container provided by the crematorium) or Tranquility can take the ashes there for you.
We can also recommend appropriate places to scatter cremated remains. You may not realize that your ideal location might not be advisable or even accessible. There are municipal bylaws and other considerations that must be taken into account when scattering ashes, and Tranquility is familiar with all of them.
Contact us to discuss all your options regarding cremation arrangements and the option of cemetery burial.