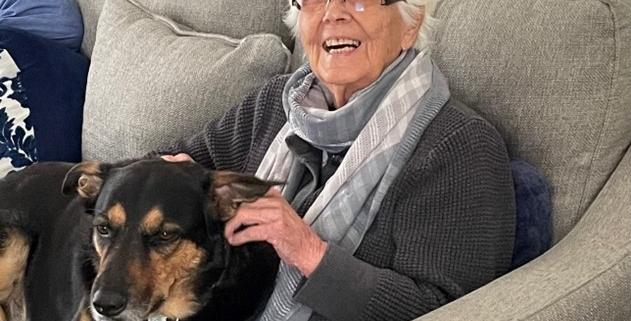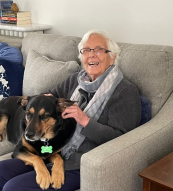 Edna Swallow (née Haigh), born in England on January 31, 1930, passed away peacefully in Hamilton,
Ontario on December 3, 2022. Predeceased by her husband, Matthew Swallow, Edna is survived by her
children Hilary (Keewatin), Elizabeth (Hamilton), Kate (Winnipeg), John (Invermere), Peter (Edmonton)
and their spouses, 12 grandchildren and 6 great-grandchildren.
Like everyone her age, Mum lived through the Depression and then WW2. During her primary school
years, air raid sirens were a regular occurrence, and Mum described being taught in bomb shelters. In
her later years, Mum confessed how exhilarated she felt when riding her bike in the dark and having
the air raid sirens fill the air. She said she loved being one of the few 'Liverpudlians' out on the street,
hanging back before heading home.
Mum's adventurous spirit and desire to challenge herself led her to respond to the pressing need for
physiotherapists, first for injured WW2 veterans and then for patients during the Polio Epidemic.
Physiotherapy was a new field and Mum was a member of the 2 nd graduating class in Liverpool.
Following graduation, she came to Canada in 1953 with a good friend and fellow physio (Patti Sinclair).
They worked in St. John, Winnipeg, and Vancouver. While in Winnipeg, Mum worked at the King
George Hospital (now the Riverview Health Centre) treating Polio patients. She smiled a lot when she
talked about that time and the patients she cared for. Mum loved to relate how, at the end of very
long days, she and her fellow physio would arrive at their local Salisbury House (Sal's) restaurant where
the staff always greeted them warmly and had their order ready and waiting for them. Mum proved
during that time that being a healthcare professional was her calling.
Following her time in Winnipeg, Mum worked in Vancouver where she met our Dad, Matthew
Swallow. Mum had a keen sense of humour and she liked to tease that Dad's car and going on car
rallies were the things she fell in love with first, and then she fell in love with him. Mum and Dad
returned to England and were married on October 15 th , 1955. Three children later, with one more on
the way, the family immigrated to Canada in 1966. Another child joined the Swallow crew a few years
later and Mum continued to work as a physiotherapist while caring for our growing family. When our
Dad died in 1978, Mum took on the challenge of raising four children on her own.
Mum never lost her love for Winnipeg and returned in 1985. She worked at Riverview (formerly King
George) before her retirement in 1997. It gave her a great deal of pleasure to note that she began her
career at Riverview and ended it there too. Following her retirement, Mum spent several days a week
volunteering at the Children's Hospital Book Market and went on enormously long walks, especially
enjoying the dogs she met along the way. Fittingly, since Mum's move to Hamilton, the lovely Otis was
her best friend and gentle protector.
Mum lived with Alzheimer's for the last decade of her life. As with all challenges, she gave the disease a
run for its money, but the last few years have been heartbreakingly difficult for her. All of us would like
to extend a heartfelt thank you to the management, first floor nursing and administrative staff, and in
particular staff on the 4 th floor at Parkview Nursing Centre in Hamilton. Your care and compassion
surrounded Mum with the dignity she needed and deserved. A special thank you to Clara Mupa for
your care, patience and kind words in supporting the family.
Rest in peace, Mum. Dad's wait is over.
————————————————————————-
Mum will be cremated, then interred later in Kamloops with Dad. At that time there will be a small
family service.
Should anyone wish, contributions may be made to an organization that reflects Mum's life and loves,
such as: The Children's Hospital Book Market (Winnipeg), your local Humane Society or Dog Rescue,
The Alzheimer's Society of Canada, or your favourite charity.
https://tranquilitycremation.com/wp-content/uploads/2022/12/Mum-Otis.jpg
697
631
Tranquility
https://tranquilitycremation.com/wp-content/uploads/2022/08/Cremation-Logo-1.jpg
Tranquility
2022-12-05 14:40:14
2022-12-05 14:40:14
Swallow, Edna (nee Haigh)