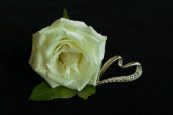 Should you find yourself in the position of being acquainted with someone whose family member passed away, it is normal to feel sorrow in your heart. It is human nature to empathize with people who are suffering. If you feel like you're spoken words are not enough, then go on ahead and send a sympathy card.
Reason for Sending
You don't need to know the deceased to send a condolences card personally. Your message is for the ones left behind. If you are a friend, workmate, gym buddy, classmate, or neighbor of the bereaved family members, by all means, show your concern and care by writing a message filled with comforting words.
It is never easy to lose a loved one. Often, the ones left behind will experience a whole gamut of emotions. There are feelings of sadness, anger, denial, and pain to contend with. When the grieving family members receive your message, they feel better knowing someone is thinking of them and sharing their pain.
Appropriate Time to Give 
If you are feeling unsure when to send the card, you can send it any time. You can hand it in person during the funeral or cremation services. You can also give it at the reception after the memorial services when all the funeral poems and songs finally are concluded.
Another option is giving the card when the bereaved family has returned home. During the stage of the funeral services, they are busy planning the program and attending to the guests who have come to pay their last respects. When they return home, that's when the reality of the loss sinks in. Their deceased family is no longer a part of their routine. At this stage, the grieving family needs the most comfort and support.
What to Put in the Card
If you are unsure about what to put in a sympathy card, you can never go wrong with the classic, immortal words, "I am sorry for your loss." Sometimes, simple words are sufficient enough to get the job done. The beautiful card you chose, along with the engraved words in it, is enough to convey your message of sincere condolences. Possible variations are:
"My deepest condolences."
"Thinking of you during this very trying time."
"I wish for you healing and peace."
"My heart goes out to you and your family."
"My thoughts and prayers are with you and your loved ones."
You can also opt to go the extra mile and include inspiring quotes. These well-crafted pieces may be written by someone else, but they are so eloquently phrased. They will surely lift the spirits of those who read them: A good example is by Catherine Pusifer, which states: "Nothing will ever take away our memories. May your memories be ones that give you comfort and reminders of happier times."
If you feel like writing more, poems that stir the heart are a great addition to your sympathy card. Look below for a short example (Author Unknown):
"Although it's difficult today to see beyond the sorrow,
May the blessings of love be upon you,
May its peace abide with you,
May its essence illuminate your heart,
Now and forever more."
When your friend is a devout believer in God, you can include a lengthier poem that touches on spirituality. After all, for some people, their coping mechanism is anchored on faith. An excellent choice is the classic poem of Mary Elizabeth Frye that reminds everyone that the deceased is now one with God:
"Do not stand at my grave and weep, I am not there, I do not sleep.
I am a thousand winds that blow; I am the diamond glints on the snow.
I am the sunlight that ripened grain; I am the gentle autumn's rain.
When you awaken in the morning's hush, I am the swift uplifting rush,
Of quiet birds in circled flight. I am the soft star that shines at night.
Do not stand at my grave and cry. I am not there. I did not die."
If you want to go for something more concise, a short Bible verse is another great option. The following are popular choices:
Psalm 147:3-He heals the brokenhearted and binds up their wounds.
John 14:1-"Do not let your hearts be troubled. You believe in God; believe also in me.
Romans 8:28-And we know that in all things God works for the good of those who love him, who have been called according to his purpose.
Matthew 5:4-Blessed are those who mourn, for they will be comforted.
Final Word
Although everyone knows that death is a natural part of life cycle, it does not make it any easier to accept. The passing of a loved one will always take its toll on the people left behind. It is hard to accept and cope with such a massive loss, making grief feel like it will never end. As a friend of the grieving family, you must play your part in the healing process by showing your support. You may not think your sympathy card is enough, but it really means a whole lot to people whose hearts are broken.
https://tranquilitycremation.com/wp-content/uploads/2020/05/white-rose-3209250_1280.jpg
854
1280
Tranquility
https://tranquilitycremation.com/wp-content/uploads/2022/08/Cremation-Logo-1.jpg
Tranquility
2020-06-13 10:46:59
2022-12-27 07:23:04
What to write in a sympathy card when you don't know the deceased?