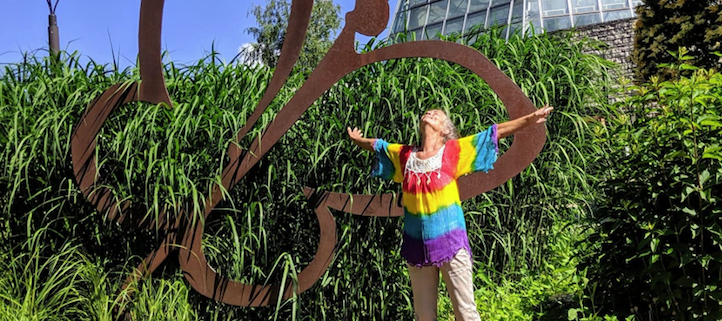 "I'm thrilled to announce that, I, Pilar Beverley Schuler (McDonald), have officially crossed to the other side at sunrise on January 7th, 2021.  My dad called for me to come home to go dancing, and I don't DARE be late. I have settled into my happy place now where pants are optional, the butterfly bushes are full and my joints are tight!
In my short, young, wrinkle-free 58 years on this side of the universe, I made sure to smell the roses every chance I had. I spent nearly 30 of those, again, wrinkle-free years, at Canada Post where my wonderful friends and I, sorted stuff out. I leave my best friend, Mel, in charge of keeping the spirits high and the laughter loud while I take my leave of absence.  I'll still be in the garden with Mary, but this time, way above the fence line. Please send all mail to postal code: TH3 5KY.
Although I physically left behind my beautiful daughter Misty, my sugar cookie favourite, Lucas (who will now have to take over my position in tolerating her full-time) and my sweetest dog, Brewser.. I am active and thriving spiritually, and will be by their side when they call for me… as long as I've had my coffee first.
Sorry Bob, I tried to stay out of your hair, but it's my turn to fly!"
​To Pilar, we will love and will miss you so much, every single day. – Misty, Lucas, Brewser, friends and family.
https://tranquilitycremation.com/wp-content/uploads/2021/01/Screen-Shot-2021-01-20-at-2.19.31-PM.png
684
722
Tranquility
https://tranquilitycremation.com/wp-content/uploads/2016/04/logo2.png
Tranquility
2021-01-20 14:21:09
2021-01-20 14:21:09
Schuler, Pilar (nee McDonald)