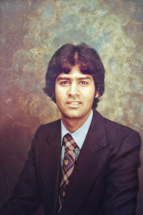 April 14, 1952 – November 18, 2021
Niranjan Jethalal Paleja (69) passed away peacefully on November 18, 2021 with his family by his side.
Neil, as he was often known, was born in Dar es Salaam, Tanganyika to Jethalal Paleja and Jayaben Paleja. He had three older brothers: Pravin, Chandrakant, and Subhash, and one older sister, Usha. He attended Shaaban Robert Secondary School before arriving in Canada in 1970 at the age of 18. In Toronto, he attended Don Mills Collegiate and Ryerson Polytechnic Institute. Though he loved the life he built in Canada with his family, he often dreamed of his childhood and his many friends in Dar es Salaam.
He is survived by his wife of 41 years, Usha (62), children Meera (37), Raj (35), and Radha (26), and grandchild, Rahi (2). He is predeceased by his father Jethalal (1993), sister Usha (2012), mother Jayaben (2017), brother Pravin (2018), and brother Subhash (2021).
Despite a prior stroke at the age of 35 which left him with permanent paralysis, he learned how to switch to using his left hand instead of his right, walk, speak, and support himself. He would do whatever it took to support his immediate family, his extended family, his friends, his neighbours, and even people he met at the library or grocery store.
He never let himself be limited and challenged himself constantly, mentally and physically. He enjoyed learning about current events through his subscription to the Toronto Star and science through his subscription to National Geographic. He loved the game of chess and all kinds of puzzles and he walked around his neighbourhood in Oakville daily.
He constantly joked around with his family and he loved to watch movies with them and see their reactions. He had a strong memory and never forgot those who were important to him. He always made sure to keep in touch with old and new friends alike. Though he took great care of his health, he did splurge on cookies and dark chocolate.
He was known for his radiant smile, his resilient spirit, and for making everyone's day a little brighter. He had a sensitive soul and he nurtured it throughout his years. We love him and he will be with us always.
There are ships made of silver,
There are ships made of gold,
But there's no ship like friendship
If you are unable to attend the service you are invited to join via livestream using the link below:
https://tranquilitycremation.com/wp-content/uploads/2021/11/EAFAF639-041A-4ADF-B061-453A3C766661-scaled.jpeg
2560
1707
Tranquility
https://tranquilitycremation.com/wp-content/uploads/2022/08/Cremation-Logo-1.jpg
Tranquility
2021-11-20 15:07:24
2021-11-22 10:47:14
Paleja, Niranjan Jethalal