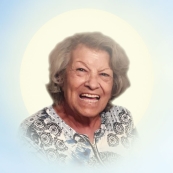 Disnarda Flores
"Dina"
Sep 13, 1940 ~ Sep 13, 2023
With heavy hearts we announce the passing of Disnarda "Dina" Flores (née Correa).
Devoted wife to Oscar Flores; proud mother to Oscar Jr. (Lori), Sandra (Jason) and Kelly (Ted); adoring grandmother to Dustin (Kendra), Kassidy (Ramsey), Daniel, Greyson and Presley and grand-pups, Dolly and Sally.
Dina was able to say her goodbyes and requested that we look after her beloved husband of 61 years. She sustained her sense of humour right to the end and passed away peacefully at her home in Mississauga on September 13 th , her 83 rd  birthday, surrounded by her loving and supportive family. Dina was a brave, beautiful, kind person who spread joy and happiness everywhere she went. She will be deeply missed.
Born in Tacuarembó, Uruguay, the only child to her late mother, Dinora Martinez, Dina immigrated to Toronto, Canada in 1969 and built an incredible life, devoting herself to her family and cherishing her role as Tata.  Dina was a hard-working woman,
sometimes taking on multiple jobs to support her family. Dina spent 25+ years at Benjamin Films Laboratories and after retiring Dina continued to keep herself busy as an Avon Lady for many years as well as becoming Treasurer of her seniors' club, El Club de los Abuelos de Mississauga, and ultimately becoming President for two years running. Dina was a very proud Canadian, an avid photographer, an incredible knitter and seamstress, a fantastic cook, a serious bookworm and a green-thumbed gardener.  Dina was a social butterfly and loved to meet new people, dance, play cards and bingo, camping, cottaging and travel. She encouraged everyone to "see the world". Some of her favourite spots included: Paris, Spain, Cuba, Jamaica, New York, Miami, Georgian Bay and Muskoka.
A special thank you to Dr. Hormoz Hamrahi of Dorothy Ley Hospice; and the team from Bayshore Home Care as well as the crew of PSWs from Able Living/Thrive Group – for their excellent care, patience and kindness.
~The Flores Family
~~~~
Please join us in celebrating Dina's wonderful life
Saturday October 14 th
from 4pm to 8pm
at the Royal Canadian Legion Branch 101 -Long Branch,
3850 Lakeshore Blvd., West, Etobicoke
In lieu of flowers, donations can be made to the Arthritis Society of Canada.
Cremation and interment will take place at a later date at St. John's Dixie Cemetery & Crematorium.
~~~~
Con gran pesar anunciamos el fallecimiento de Disnarda "Dina" Flores (de soltera Correa).
Amada esposa de Oscar Flores; orgullosa y querida madre de Oscar Jr. (Lori), Sandra (Jason) y Kelly (Ted); adorada abuela de Dustin (Kendra), Kassidy (Ramsey), Daniel, Greyson y Presley y sus nietas-perritas, Dolly y Sally.
Dina pudo despedirse de sus seres queridos y solicitó que cuidaran a su querido esposo de 61 años. Mantuvo su sentido del humor hasta el final y falleció pacíficamente rodeada de su querida y solidaria familia, en su casa en Mississauga el 13 de Setiembre ,día en que también cumplió sus 83 años. Dina fue una hermosa, valiente, querida y amable mujer, que contagiaba alegría y felicidad dondequiera que iba. La extrañaremos profundamente.
Nacida en Tacuarembó, Uruguay, hija única de su difunta madre, Dinora Martínez, Dina emigró a Toronto, Canadá en 1969 y construyó una vida y familia admirables,  y comenzó a asumir su papel de Tata. Dina fue una mujer trabajadora que a veces
realizaba múltiples trabajos para ayudar a su familia. Trabajó más de 25 años en Benjamin Films Laboratories y, después de jubilarse, continuó manteniéndose ocupada como Avon Lady además de convertirse en tesorera de El Club de los Abuelos de Mississauga, y finalmente en presidenta del mismo,  durante dos años consecutivos. Dina estuvo siempre orgullosa de su ciudadanía canadiense, era una fotógrafa ávida, tejedora y costurera increíble, una cocinera fantástica, seria amante de la lectura  y la naturaleza, con una mano muy especial para la jardinería. Dina era una mariposa sociable a quien le encantaba conocer gente nueva, bailar, jugar a las cartas y al bingo, acampar y disfrutar de días al aire libre. Siempre animaba a todos a conocer el mundo porque le encantaba viajar. Algunos de sus lugares favoritos fueron París, España, Cuba, Jamaica, Nueva York, Miami, Georgian Bay y Muskoka.
Deseamos agradecer especialmente al Dr. Hormoz Hamrahi de Dorothy Ley Hospice; y al equipo de Bayshore Home Care, así como al equipo de PSW de Able Living/Thrive Group, por su excelente atención, paciencia y amabilidad.
~La familia Flores
~~~~
La Celebración de Vida de Dina será realizada 
el Sábado 14 de Octubre
entre las de 4pm y 8pm
en el Royal Canadian Legion Branch 101 -Long Branch
3850 Lakeshore Blvd., West, Etobicoke
En lugar de flores, se pueden hacer donaciones a la Sociedad de Artritis de Canadá.
La cremación y el entierro serán llevados en una fecha posterior en el Cementerio y Crematorio St.
John's Dixie
~~~~
https://tranquilitycremation.com/wp-content/uploads/2023/09/Disnarda-Flores.jpg
908
908
Tranquility
https://tranquilitycremation.com/wp-content/uploads/2022/08/Cremation-Logo-1.jpg
Tranquility
2023-09-18 17:38:08
2023-09-20 10:21:28
Disnarda "Dina" Flores