In Loving Memory
Margaret Burrows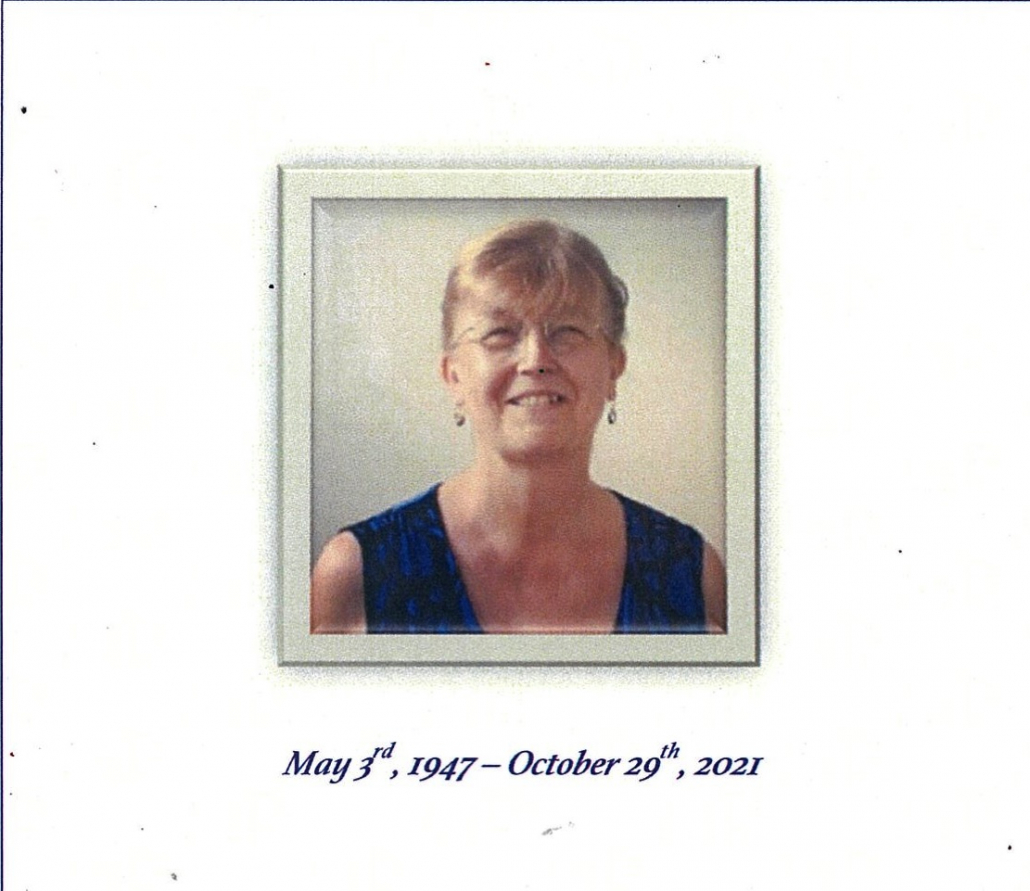 Margaret passed away in hospital after a brief but courageous battle with cancer. She was 74.
Born in London, UK shortly after World War Two, she remembered food stamps and rations, and the devastation still evident from wartime hostilities.  As the youngest of four children born to a Royal Army veteran and his wife (Frederick & Irene Parsons), Margaret was the "baby" and revelled in the attention. She completed high school and a secretarial program before meeting "Biker Bill", a leather-jacketed suitor from a neighbouring housing estate.
Married at 19, and expectant with their first child at 20, Margaret followed Bill and his career to Scotland, Switzerland, and the USA, while having their second child at age 23. The young parents decided to emigrate and raise their family in Canada, settling in Mississauga in 1974. At age 27 with two children (aged 3 and 6) in a new country, Margaret showed her determination early.
She started working full-time within months of landing, and continued working for 40 years until reluctantly retiring at age 67 from The Hayward Gordon Group. She volunteered at a mental health crisis line, as well as a hospice centre. As a retirement business / hobby, Margaret would source antiques and collectibles from local auctions to place in her booth at the Emporium in the village of St George, her and Bill's home since 2016. Her focus was always on family, both her own in Canada and never losing the connection with her siblings and their children in the UK.
Although certainly very fond of her British roots (and a big fan of Brit TV and 'real' Cadburys chocolate!), Margaret was a proud Canadian from the beginning, securing citizenship as soon as eligible, voting in every election, and learning new sports just so she could proudly wave the Maple Leaf.
A loyal member of the Royal Canadian Legion, a fierce supporter of animal welfare (particularly elephants!) through the Ontario SPCA and wildlife charities, Margaret espoused the values of family, hard work and social justice in every moment of her life.
She is survived and greatly missed by her husband Bill,  her children Neil (Carolyn) and Suzanne (Richard), her granddaughters Sarah and Hannah, her friends and her many nieces and nephews in the UK.
Our heartfelt appreciation to the nurses and staff at the Brantford General Hospital. Their kindness, skill and commitment were always evident, and we are forever grateful.
https://tranquilitycremation.com/wp-content/uploads/2021/11/Burrows-photo-2-e1636409902536.jpeg
961
1111
Tranquility
https://tranquilitycremation.com/wp-content/uploads/2022/08/Cremation-Logo-1.jpg
Tranquility
2021-11-08 17:23:27
2021-11-08 17:26:30
Burrows, Margaret