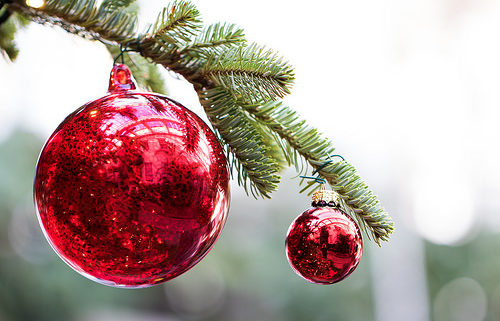 Christmas isn't always the best season for everyone. In fact, there are some who may not feel as festive as many would. This can be particular among those who have seasonal affective disorders or among those who have recently lost someone near and dear to them.
The fact is the holiday blues affect more people than others realize. The key is to find means to avoid holiday blues, which brings us to good news. If you are feeling a little low this season, we are here to help. There are plenty of ways to fight off the holiday blues and make yourself feel even just a little better.
With the help of trusted experts, allow us to make Christmas brighter for you and your family.
Darlene Lencer, author of "Codependency for Dummies"
Lencer is no stranger to the holiday blues. She has helped countless people go through this season without feeling worse than they already do. It can stem from a lot of other problems such as finances, death of a loved one, stress, divorce and many others.
Here are her best tips to combat the holiday blues:
Make plans in advance, so you know how and with whom your holidays will be spent. Uncertainty and putting off decision-making add enormous stress.
Ask for help from your family and children. Women tend to think they have to do everything, when a team effort can be more fun.
Shame prevents people from being open about gift-giving when they can't afford it. Instead of struggling to buy a gift, let your loved ones know how much you care and would like to, but can't afford it. That intimate moment will relieve your stress and nourish you both.
Don't allow perfectionism to wear you down. Remember it's being together and goodwill that matters.
Make time to rest and rejuvenate even amidst the pressure of getting things done. This will give you more energy.
Research has shown that warmth improves mood. If you're sad or lonely, treat yourself to a warm bath or cup of hot tea.
Spend time alone to reflect and grieve, if necessary. Pushing down feelings leads to depression. Let yourself feel. Then do something nice for yourself and socialize.
Don't isolate. Reach out to others who also may be lonely. If you don't have someone to be with, volunteer to help those in need. It can be very uplifting and gratifying.
Mark Sichel L.C.S.W, therapist
Sichel is a therapist who has dealt with a lot of people suffering from seasonal sadness. He stresses on the importance of looking after yourself physically, mentally and emotionally.
Here are his personal tips to help you through this season:
Be careful about resentments related to holidays past. Declare an amnesty with whichever family member or friend you are feeling past resentments. Do not feel it is helpful or intimate to tell your relative every resentment on your laundry list of grievances. Don't let your relative do that to you, either. If you need help with unburdening yourself of your investments, check out these seven strategies for giving up resentments.
Don't expect the holidays to be just as they were when you were a child. They NEVER are. YOU are not the same as when you were a child, and no one else in the family is either.
Feeling like you are under scheduled or under planned for the holidays? Volunteer to serve holiday dinner at a homeless shelter. Work with any number of groups that help underprivileged or hospitalized children at the holidays. There are many, many opportunities for doing community service. No one can be depressed when they are doing community service.
Plan unstructured, low-cost fun holiday activities: window-shop and look at the holiday decorations. Look at people's Christmas lighting on their homes, take a trip to the countryside, etc.–the opportunities are endless.
Michelle Pellizzon, certified health coach, holistic nutritionist, NASM-certified PT and healthy living expert
Pellizzon believes that the holiday blues are avoidable. You must take the necessary steps, particularly practicing better health habits, in order to help yourself come out of this ordeal in one piece.
Vitamin D plays a vital role in regulating mood, and can even fight depression and anxiety—and it's easy not to get enough, especially if you're covering up with heavy SPF or battling the winter weather. According to Dr. Chris Kresser, you should aim to get in at least 15 minutes of unprotected sun exposure a day (so counterintuitive, right?) because it's easier for our bodies to create vitamin D through sun exposure as opposed to through food alone. It might also be a good idea to supplement your diet with a little more vitamin D during this time of year if you're dealing with limited sunlight; fatty fish, egg yolks, ghee, and cheese are all good sources of vitamin D.
So you planned on grabbing a bite to eat before the office Christmas party, but you got caught up and now you're stuck picking over the buffet table for sustenance. Don't fret. When in doubt, load up your plate with raw goodies like crudites, sashimi, and tuna tartare. Sticking to these high-protein, high-fiber foods will keep you fuller for longer, and decrease the likelihood that you'll ravage the dessert tray later in the evening. Whatever you do, avoid sugar—if you're already stressed, it'll just inhibit your body's ability to relax and recover.
Omega-3 fatty acids are necessary for optimal brain function—and not getting enough of these healthy fats can negatively impact your mental health and can lead to mood swings and depression. Beat the blues by upping your daily fat intake; aim to get at least three servings of nuts, fatty fish, algae, or avocado.
https://tranquilitycremation.com/wp-content/uploads/2016/12/30560193824_6c75931182.jpg
333
500
Chris Silverthorne
https://tranquilitycremation.com/wp-content/uploads/2016/04/logo2.png
Chris Silverthorne
2016-11-25 01:03:35
2018-09-25 09:16:54
How to Beat the Holiday Blues