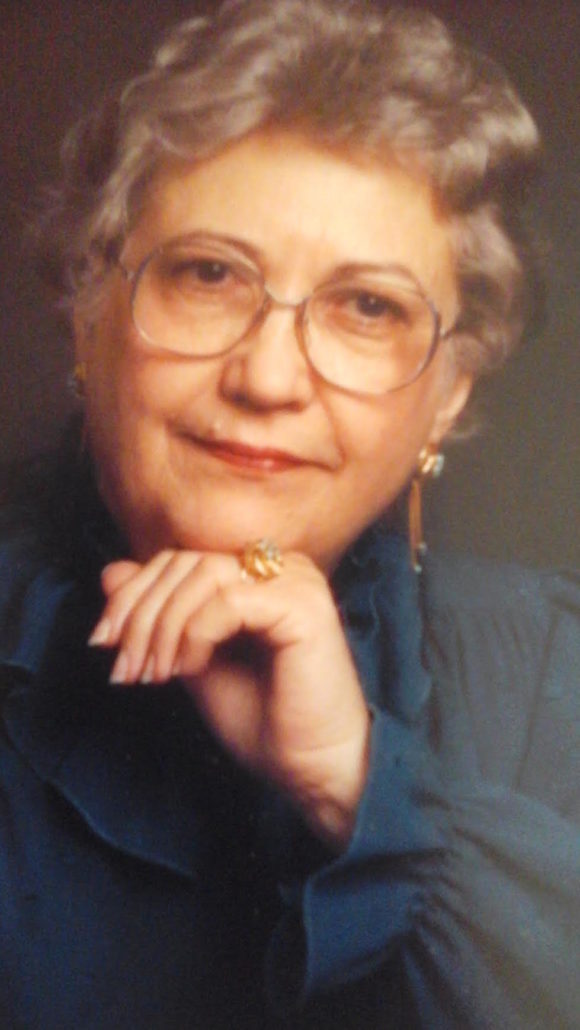 Visitation will take place Wednesday June 6, 2018 at St.John's Dixie Crematorium (737 Dundas St E, Mississauga)  11am – 1pm, Service at 1pm with reception to follow.
Helen Louise Somerville (nee Roberts) was born in December, 1923 to Laura Roberts (nee Robinson) and Albert (Bertie) Roberts  at their farm " Exeter" in Devon, Manchester, Jamaica W.I.   She was a younger sister to Albert  Jnr. (Bert) and Vivian (Viv) and later, an older sister to Lloyd and Colin.  Being stuck in the middle of four boys and far away from the town or any girl cousins, she was soon sent off to be home schooled by Mrs. Lynch in the parish of St Elizabeth.  Helen not only studied but boarded with the Lynch family at Sandringham and so became close buddies with all Mrs. Lynch's children.  Later, when Helen joined the two daughters, Kathleen and Muriel, at the Hampton Boarding School for Girls in that parish, she cemented these relationships.  In fact, these girls and others from that school became her life-long friends.
Post high school found Helen in the parish of Kingston and St Andrew attending secretarial school to study shorthand and book-keeping while boarding with an aunt.   It was here that she met and married Cecil Arthur Somerville immediately after her 21st birthday in December, 1944.  Ten months later Howard arrived on the scene, then Jennifer and Anthony.  Together the couple reared their family of three in four different houses which Cecil designed and then supervised the construction:  first on Dunscome Road, then  Barbican Road , Wellington Drive and finally Beverly Hills Drive. Unfortunately our family had lived in the house on Beverly Hills Drive for only five months when Cecil was tragically killed in an automobile accident on October 19, 1964.  Everything then seemed to grind to a halt for a long while.
The children had all  attended local public high schools and our house was always full of neighbours and friends.  On Sundays the family would attend the 7:00 AM service at St Margaret's Anglican Church in Liguanea, and then go swimming together  before returning home for lunch.  On other Sundays we would be on the road immediately after church and breakfast, heading for Devon, Manchester to visit with "Bampa" and "Mama" Roberts, always stopping at Old Harbour to visit with Dad's McLennon  Grandma and his mother's sisters.    Once Grandpa Somerville had retired from the Anglican synod, he and Grannie stayed in the Anglican retirement home at Cross Roads in Kingston, so we would stop by to see them some afternoons during the week.  In this way we had stayed close to family –even those on the other end of the island whom we would visit during the Easter vacation.     Once Dad died everything seemed to unravel.   Now that Mom was solo, it took her time to gather momentum but bit by bit by God's grace she pulled us together and saw her teenagers through school and off to college into adulthood.
By the early 1970's Howard and Anthony had finished college and decided to try their wings in Canada. Jennifer returned home after teaching in England for two years but stayed only a year before marrying in August, 1972 and leaving to live in Bermuda.   Mummy was alone once again, but not for long.  She visited Jennifer in Bermuda and welcomed her Bermuda family and friends at Abbey Court, New Kingston.  She also helped to care for her grand-daughter Juanita, while still working at the Bank of Jamaica.  When "Mama", her mother, became ill in Christiana, Mummy brought her up to St Andrews Memorial Hospital in Kingston and attended to her until her passing.
In 1979 Helen was on the move.  She packed up and sold her apartment before moving to the US and then on to Canada to join Howard and Anthony. She first stayed with Anthony and began searching for work.  After several trial jobs she finally found employment at the World Vision Offices in Streetsville, Ontario.  Helen enjoyed her time working in the World Vision offices and making many friends before retiring in 1994 after she had turned 70.   During her working life in Canada, Mummy, Grandma Helen was intimately involved with her grandchildren. Her name was Helen Somerville but wherever there was a Bateman celebration, Helen was included. Helen had many talents and she shared them with everyone. She enjoyed reading and baking so she made cupcakes and Birthday Cakes.  She enjoyed floral arranging so she decorated the church and adorned your sideboard. Helen loved to sew, crochet and knit so she created curtains, bedspreads, pillows, quilts and blankets and shawls.  Did I say Helen enjoyed sewing?  Her hands were never idle. Helen created graduation gowns, wedding dresses, tapestries, embroidered and cross-stitch pictures; pictures of birds, animals flowers, teddy-bears and dolls and gave them all away.
After her retirement, Helen travelled frequently to Bermuda and across Canada and to England, attending graduations and other celebrations.  For her 85th birthday, Helen went on an unforgettable   cruise to Alaska with her daughter, Jennifer, and two of her grand-daughters, Arlita and Amanda. What a time!  What a time!
Since arriving in Canada Helen became an active member of St John's Anglican Church, Dixie.  She worked on the Alter Guild and sang in the choir and even took part in the Joy in the Morning choral group.  Since retiring, she joined the Monday Morning prayer cell and attended the Joy in the Morning Bible study and prayer time every Thursday morning.  Helen also joined the 'Square One Seniors' Group' going every Wednesday for exercise and mall walking .  Every month they would gather for activities within Mississauga and beyond.  While in Jamaica Helen had played hockey in her younger years with the Hampton Old Girls Hockey team and even represented Jamaica in Hockey tournaments across the West Indies and South America.   She later even played golf.  As a senior she was then encouraged to join a local bowling team.  This she did and with help from her friends, had much success.  Unfortunately this activity was short-lived as Helen suffered a stroke, first in 2012.  Once she had recovered and completed her rehabilitation, Helen rejoined the group, thankful for those who would collect her on their way to the mall.  In May, 2015, however, Helen suffered another stroke, which left her completely paralyzed on the left side.  Unable to walk and gradually becoming weaker, Helen was not able to participate in her usual activities but was confined to her wheelchair and more and more to her bed.  She had been residing at the Cooksville Healthcare Facility, where she had been cared for by nurses and Personal Care workers around the clock.  We are grateful for all they have done and for church, friends and family who came by faithfully to visit with her.  Special thanks must go to her son and daughter-in-law, Howard and Althea, who visited Mom almost every day at the Nursing home, and attended to her every need.  We, Anthony and Jennifer, are extremely grateful for your diligence.  You did what we were unable to do.   May God richly bless you all.
Submitted by Jennifer and the family,
Proverbs 31:27  She looketh well to the ways of her household and eateth not the bread of idleness.
https://tranquilitycremation.com/wp-content/uploads/2018/06/unnamed-2.jpg
1740
979
Chris Silverthorne
https://tranquilitycremation.com/wp-content/uploads/2022/08/Cremation-Logo-1.jpg
Chris Silverthorne
2018-06-01 08:55:50
2018-06-01 12:48:40
Somerville, Helen Louise