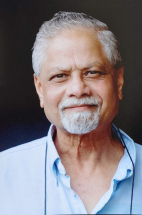 Charles Sammy, A life well lived.
On Saturday, July 23rd, 2022, Charles "Saga Boy" Sammy. Loving Husband, Father, Brother and Friend passed away peacefully in the city of Mississauga, Ontario. Charles is survived by his children Susan, Molly and Azard. Grandchildren, Daniel, Serra, Amanda, Amy, Rayaz, Allison, Jelissa and Steven. Great Grandchildren, Abigail, Yasmine, Angelina, Kaleel, Selena, Nalaina, Alyssa, Joshua, Sophia, Isabella, Jeremiah, Austin & Andrea.
Charles started working in the Sugar Cane fields at the age of 13 and where he met Nannie. They got married at the age 17. At the age of 20, he became a father and had 3 beautiful children, Susan, Molly and Azard.
In March 1972, Charles came to Canada where he got his first job at KFC. As many of you knew, Charle's kind heart would never turn people away that couldn't afford food, he would tell them to go around the back and give them a full bucket of chicken and tell them to go home. As good as he was, he was also a person to not cross. Charles was one of a kind, always giving and never wanted anything in return. On Nov 23, 1974, He was able to bring Nannie and their kids to Canada where our family grew to what we are today.
We are sincerely grateful to the many family and friends who have given us support and comfort during this time of loss.
He will be greatly missed by his loving family and always remembered in their hearts.
https://tranquilitycremation.com/wp-content/uploads/2022/07/9a512157-de7b-4209-aaf9-7db8fdad1e7c.jpg
2048
1353
Tranquility
https://tranquilitycremation.com/wp-content/uploads/2022/08/Cremation-Logo-1.jpg
Tranquility
2022-07-26 11:42:26
2022-07-26 11:42:26
Sammy, Charles