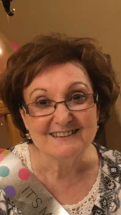 Maria Massa
Born Aug 20 1952
Passed away April 16 2020.
It is with regret and deeply saddened hearts that we announce the passing of our beloved Maria Massa. Maria departed peacefully with her family by her side and went to be with the Lord on April 16 2020. Maria was a devoted parishioner who strongly held true to her faith above all else, and attended Our Lady of Fatima Shrine church in Buffalo, New York for more than thirty years. Maria always put her family first before herself and never ceased to give love and care to everyone but most especially to her children and grandchildren. Maria loved to travel and she radiated nothing but kindness and love everywhere she went. She always said that it gave her more pleasure to cook and feed others before she ever thought of taking a share for herself. Maria had a heart of pure gold like no other and all remember just how funny, vibrant and full of life she was. Whether you were close or long distance, Maria could light up your room and even blossomed the flowers in the gardens she loved.
Predeceased by her father Giuseppe, Maria is survived by her mother Vittoria, loving husband Enzo, her children Piero, Loreta, Ricardo and Tammy, her grandchildren Dallas and Cole, her brother Salvatore, her sister-in-law Concetta, her sister Ersilia, her brother-in-law Alfredo, her brother Roger, her sister-in-law Isabella, and by all her relatives, extended family and friends.
You will be remembered by so many people every single day with your beautiful smile on your face and now God will guide you to a new journey with love. You will always be in our hearts and thoughts forever.
May the Lord be with you always Maria. We love you, Rest in Peace. Amen.
https://tranquilitycremation.com/wp-content/uploads/2020/04/Massa.png
640
359
Tranquility
https://tranquilitycremation.com/wp-content/uploads/2016/04/logo2.png
Tranquility
2020-04-19 13:56:48
2020-04-19 13:56:48
Massa, Maria