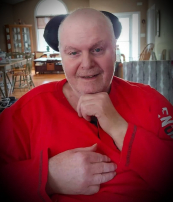 Lemyre, Joseph Howard  September 22nd, 1945 – October 18th, 2021
On Monday, October 18th, 2021, at West Haldimand General Hospital, Joseph (Joe) Howard Lemyre went home to be with his Saviour after a lengthy battle with declining health.  Loving husband of Nancy Lynn (Gough) Lemyre, Joe was a long-time resident of Hamilton, most recently of Haggersville, Ontario.  This past summer they celebrated their 56th wedding anniversary.  He was born to Phillip and Anne Lemyre of Hamilton, Ontario on September 22, 1945.  Joe was a dedicated and well-respected employee, co-worker, and supervisor for Vipond Inc. as a sprinkler fitter for more than 35 years .  He took great pride in his work and was always counted on to get the job done right.  His dedication to work ethic extended into his personal life as well, always faithful to remind you to check your oil and tire pressure.  Even in retirement, he would wake up early and scrap metal.  Joe had a passion for car racing and was often found beneath a hood in a garage.  He could be found in the pits on his nephew's race team, or later in the stands.  Joe and Nancy's home was always open to family, visitors, and foster children.  Their home was a true refuge for many.  Some of their foster children still refer to him as their Papa.  Through all aspects of his life, Joe would never forget to give glory to his Lord, Jesus Christ, and share His love.  Above all his commitments, God came first.  He lived his life to please God as best as he could.  Would never consider himself above others but was a man of great character.  From driving bus on Sunday mornings, preparing church dinners, supervising major renovation projects, ushering, and serving on the board, these were just a few of the ways he spent donating his time.
Joe's family was an equally important priority and passion. Dad and Papa were cherished titles.  Besides his wife, he is survived by his five children, Joey Lemyre of Binbrook, Jamie Lemyre and his wife Kim of Niagara Falls, Jonathan Lemyre and his wife Denise of Hamilton, Jeff Lemyre of Binbrook, and Joanne Mullen and her husband Jonathan of Hamilton; two brothers, John Lemyre and his wife Louise, Phillip Lemyre and his wife Gerry; his six grandchildren, Ashley, Jacob, Joshua, Cole, Maeve, and Chase.  He also had many close relationships and friends with his in-laws and at Church.
A Celebration of Life service will be held at Peoples Church Hamilton, 510 Mohawk Road West on Friday October 29th at 11am.  There will be visitation beforehand from 9:30am to 10:45am. In lieu of flowers, donations could be made to the Atwell Pregnancy Center.
https://tranquilitycremation.com/wp-content/uploads/2022/08/Cremation-Logo-1.jpg
0
0
Tranquility
https://tranquilitycremation.com/wp-content/uploads/2022/08/Cremation-Logo-1.jpg
Tranquility
2021-10-26 10:33:43
2021-10-26 10:33:43
Joseph Lemyre