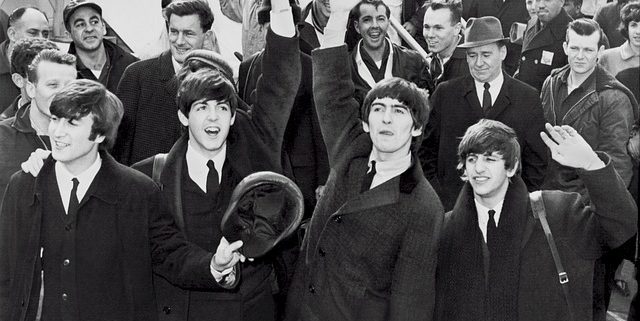 Who knows how long I've loved you
You know I love you still
Will I wait a lonely lifetime
If you want me to– I will.
For if I ever saw you
I didn't catch your name
But it never really mattered
I will always feel the same.
Love you forever and forever
Love you with all my heart
Love you whenever we're together
Love you when we're apart.
And when at last I find you Your song will fill the air Sing it loud so I can hear you Make it easy to be near you For the things, you do endear you to me You know I will I will.
Love knows no bounds, not even death sometimes. To many of us who felt what it is like to lose somebody we love dearly, we know all too well that our love extends even years after this person has gone. We just can't simply stop loving this person forever. We even fondly remember the time when we first met this person and how we just simply fell in love, automatically, like it was meant to happen all along. We tend to remember the things that made that person we lost very dear to us more clearly than the bad moments that were experienced.  This is probably why upon death, many people choose cremation services where they can opt to have the ashes of their loved ones close to them in an urn or closer still with cremation jewelry of some sort.  The bliss of love that we so fondly remember in our loved ones both living and deceased is captured quaintly in the song "I Will" by the iconic band, The Beatles. This is probably a very universally recognizable song that spans across several generations. And whatever type of music may arise in whatever generation, this song never seems to lose its charm. This song holds the very textbook definition of a classic. The song was written by the Beatles but it was primarily written by Paul McCartney. They finished the song fairly quickly on this one trip to India and finished the recording as they went back to London. The song was released way back in November of 1968 and there had been many other amazing Beatles songs since then because their music evolved through time. It went from a pop lovey-dovey vibe to psychedelic rock which is oceans away in terms of the genre from where they began. However, despite all this, Paul still maintains that this is one of the most favorite songs he's ever written. Its simple yet soothing acoustic guitar tune relaxes anybody who listens to it while giving off the feeling of love through its nicely written lyrics.
Today, the song has been revived and covered almost countless times by the most notable of artists. The Wikipedia about this song lists some of them:
-Hugh Masekela included the song in his 1970 album Reconstruction.
-John Holt released a reggae cover on his 1976 album 2000 Volts of Holt.[6]
-The song was sung in the 1994 romantic movie Love Affair, starring Annette Bening and Warren Beatty.
-Phish, on the album, Live Phish Volume 13.[7]
-Alison Krauss recorded a cover of the song for her 19950album Now That I've Found You: A Collection.
-Diana Ross covered the song for her 2007 album I Love You.
-Garrison Keillor sang the song in an episode of the radio show A Prairie Home Companion.
-Ben Taylor recorded the song for the 1995 movie Bye Bye Love and his recording is also on the original soundtrack album.
-Jonathan Coulton covered the song in his album Thing a Week Two.
-Tim Curry did a reggae version of the song on his first album, Read My Lips.
-Art Garfunkel covered the song on his 1997 album Songs from a Parent to a Child.
-Al Di Meola covered the song on his 2013 CD All Your Life.
-Tuck & Patti covered the song on their 1998 CD Paradise Found.
-Kathy Mattea covered the song with Aly Bain and Jerry Douglas for Transatlantic Sessions series 1, 1995.
-Daniel Johnston covered the song on his 1983 self-released cassette-tape album More Songs of Pain.
-Israeli singer Gidi Gov sang a version of the song in Hebrew on his television show "Laila Gov"
-Jazz Martyrs covered the song on their 2017 CD Along Similar Lines.
-Roma di Luna covered the song on the compilation album Minnesota Beatles Project
"I Will" from The Beatles is so well-loved and resonates so much to many that it never goes out of style. If you knew somebody who has passed away but loved the song when they were still alive like many living people do today, then "I Will" can be a perfect funeral song that could be the perfect farewell for a person so loved and so special.
https://tranquilitycremation.com/wp-content/uploads/2019/03/the-beatles-509069_640.jpg
451
640
Tranquility
https://tranquilitycremation.com/wp-content/uploads/2022/08/Cremation-Logo-1.jpg
Tranquility
2018-11-13 18:37:05
2022-12-27 07:23:19
I Will – The Beatles