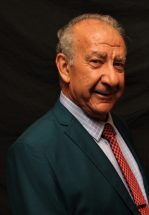 Giuseppe D'Agostino
(November 2, 1946 – April 13, 2021)
With heavy hearts, we announce the passing of Giuseppe D'Agostino after losing his short-lived battle with cancer.
Giuseppe passed away peacefully at home alongside his family on April 13, 2021. He is survived by his loving wife, Lidia and is a cherished father to Teresa (Sergio), Giuliano (Maria) and Marco (Kayla).  He is a proud and loving nonno to Arianna, Davide, Giuseppe Jr. (Joseph), Sophia, Caleb and Nathan.  He was the youngest of 6 children.
Giuseppe was born on November 2, 1946, in Viticuso, Provincia di Frosinone, Italy. He first heard about Jehovah in Switzerland and studied with a bible student for a few months.   Shortly after he had to return to Italy, but the seed of truth was planted in his heart.   He met Lidia, and 3 months later they were married on April 30, 1970.  They immigrated to Canada where he worked diligently to provide for his growing family.  When in Canada he began to study the Bible once again, and immediately fell in love with what he had learned and was baptized as a Jehovah's Witness on May 14, 1974. Giuseppe's life always reflected his deep love for Jehovah and others.  He did his best serving Jehovah in the congregation, and took every opportunity to share the Bible's hope for the future with anyone.
Giuseppe had a passion for his garden, but was especially known for the love he had for his family.  He enjoyed the company of his family and friends, and always opened his home to everyone with a smile.  He always told his children and grandchildren to serve Jehovah, no matter what.  He did not merely use words, but by his example he demonstrated his love for Jehovah to the very end.
Giuseppe touched many lives and he is deeply loved, respected and cherished by his family and friends.
"I will praise Jehovah all my life.  I will sing praises to my God as long as I live."  -Psalm 146:2
****
"Because he has affection for me, I will rescue him.
I will protect him because he knows my name… He will call on me, and I will answer him…"- Psalm 91: 14,15
Due to current circumstances, in person visitation for immediate family only will take place at the St. John's Dixie Funeral Home in Mississauga, on April 17, 2021.  Family and friends may join from home via Zoom on April 24, 2021 at 1:30pm for memorial talk. 
Meeting ID# 812 3856 4695
Passcode: 222875
Phone tie in +1 647 374-4685
https://tranquilitycremation.com/wp-content/uploads/2021/04/Daddy3.jpg
2311
1602
Tranquility
https://tranquilitycremation.com/wp-content/uploads/2016/04/logo2.png
Tranquility
2021-04-16 10:12:04
2021-04-16 10:12:04
Giuseppe D'Agostino