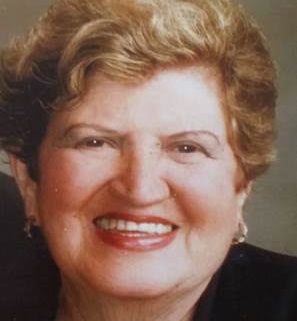 Our most beloved Victoria (Toyita) Garcia de Sánchez, born in Ecuador, December 1, 1932 passed away peacefully at the Dorothy Ley Hospice, on July 30, 2017.
Married for 67 years to J. Francisco (Paco) Sánchez Arias, Paco and Toya's loving relationship and genuine affection for each other was a true love story and an inspiration to everyone. Together, they helped bring to the world 5 daughters and 2 sons, each with incredible qualities, trail blazers in their own right. Most importantly, they have been the core of a strong family for whom the bonds of family unit are the source of strength, joy and constant celebration. Paco and Toya's children and grandchildren are:
Elvira Sánchez de Malicki, married to Marek Malicki, their children: Keram, Vanessa, Adriel and Gibrian Malicki-Sánchez. Vanessa and Conor Caulwell's children Mylo and Oscar
Victoria (Toya) Sánchez- Jankowski, married to Alex Jankowski, their children: Jesse and Karissa Jankowski
Francisco (Paco) Sánchez Garcia, married to Fatima Orrala de Sánchez, their child Francisco Sánchez Orrala. Also Paco's son Daniel Contreras, married to Elisa DeSantis and their children Sebastian y Leonardo. Paco's daughter Francisca (Paquita) Sánchez de Exbrayat, married to Cyril Exbrayat and their children Lea and Gabriel
Patricia Sánchez Lauper, married to Cesar Lauper, widow of Xavier Salcedo, their children Francis, Juan Jose (JJ) Salcedo and Maria Jose (Chiqui) Salcedo Vasquez, married to Alex Vasquez and their children Tatiana and Sebastian.
Maria Fernanda Sánchez-Kani, married to Mario Kani, their children Cassandra and Darian
Xavier Sánchez, married to Adriana Knupflemacher de Sánchez, their children: Christian and Ana Sofia Rakansky and Xavier and Daniel Sánchez Knupflemacher.
Sra. Toyita, who was very proud of her heritage was predeceased by her father Gabriel Garcia Morales – nephew of Gabriel Garcia Moreno, one of the best Presidents of Ecuador in the late 1800's and also nephew of Cardinal Juan de la Cruz Ignacio Moreno y Maisanove, whose capello still hangs in the Cathedral in Toledo – and her mother Sra. Elvira Demari de Garcia. Her brother Gabriel Garcia and sisters Adriana Garcia de Jauregui, Guillermina Garcia de Ayala, Matilde Garcia de Aguirre y Elvira Garcia de Knopf, their spouses, children and progeny maintained a strong family bond even after she migrated to Canada in 1991 to join her daughters, the first of which, Elvira began their migration to Canada in 1966.
Defining Toyita's profession as homemaker is to emphasize how noble and important that profession is as she excelled at it. Testimony of it is the wonderful and all round supportive relationship all the members of her family, both in Canada and in Ecuador, have with each other. They are all each other's best friends, fans, mentors and guides through the various paths of life. Her legacy will live on. We shall miss her but also delight in remembering all things she taught and shared with us. Her passion for style, her contagious sense of humour, her exceptional and delicious culinary abilities, her generosity, kindness and loving nature will live in our hearts for the rest of our lives.
May she now and forever Rest in Peace.
Celebration of her life will take place Wednesday, August 2, at 5:00 p.m. at St. Catherine of Siena Catholic Church, 2340 Hurontario St., Mississauga, L5B 1N1                                                                                              Directions
After Mass Reception at Boaden Banquet Hall, Tudor Room, 505 Queensway Ave E, Mississauga, ON L5A 4B4   Directions
Interment of her ashes will take place on Thursday, August 3 at 10:00 a.m. at Queen of Heaven Catholic Cemetery, 7300 Hwy 27, Woodbridge, ON L4L 1A5,                                                             Directions
In lieu of flowers donations would be gratefully accepted by the Dorothy Ley Hospice Making your donation online or over the phone by calling (416) 626-0116.
The family wants to take this opportunity to thank the kindness and care provided to Mamita Toya by all the professionals and volunteers from March of Dimes, Care Partners and the Dorothy Ley Hospice. God bless you all.
https://tranquilitycremation.com/wp-content/uploads/2017/08/unnamed-3.jpg
464
297
Chris Silverthorne
https://tranquilitycremation.com/wp-content/uploads/2022/08/Cremation-Logo-1.jpg
Chris Silverthorne
2017-08-01 11:53:16
2021-04-02 08:08:59
GARCIA DE SÁNCHEZ, SRA. VICTORIA (TOYITA)