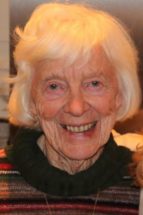 Tuesday March 20, 2018 our beloved sister and aunt passed away peacefully with family at her side. Edna, daughter of Daisy Styan and Howard Smith was in her 94th year.  She was predeceased by her sister Doris Wiley (1973) and brothers Eldon (2008) and Leslie Smith (2004). She is fondly remembered by her sister Pearl Tisdale and sister-in-law Barbara Smith as well by her nieces and nephews and their children.
Edna was born in Qu'Apelle Saskatchewan and grew up in and around Rob Roy Ontario.
After high school in Collingwood Edna received a BA from Victoria College at the University of Toronto and pursued a career in education starting as a teacher at Northlea Public School in East York Ontario.  Edna would go on to post-graduate studies in New York City and received an MA in Educational Psychology from the Teachers College at Columbia University.  Later she would travel to London England to receive further certification.
Edna remained single and brought her mother Daisy to live with her and created a hub of family activity through the years.  Edna's homes on Church Avenue and Sumner Heights in Willowdale were a center for family events and many family members at one time or another stayed with Edna.
Edna loved to travel and in her retirement travelled extensively.  She travelled for 9 months total on many trips to New Zealand, Tasmania and Australia, hiking for miles a day.  She was a lifelong learner and took great interest in a wide range of subjects and enjoyed conversation. Edna was an avid reader and dedicated diarist through the years and her travels.
Edna, in her retirement, moved in stages, first to the Village by the Arboretum in Guelph and eventually back to Collingwood at Georgian Traditions.  Wherever she went she found like minded friends to share walks and current events. While living near Guelph University she would sit in on lectures on topics that most interested her.
We would like to extend our thanks to the staff at Collingwood Marine & General Hospital for their care and attention when it was most needed. We are grateful to the staff at Sunrise of Oakville for their skilled and caring staff that made a big difference in our lives. A private internment service will be held this spring in Rob Roy, Ontario.
From an entry in Edna's travel diary –
"Happiness is an achievement brought about by inner productiveness. People succeed at being happy in the same way they succeed at loving, by building a liking for themselves, for true reasons." – attributed to Erich Fromm
https://tranquilitycremation.com/wp-content/uploads/2018/03/unnamed.jpg
667
445
Chris Silverthorne
https://tranquilitycremation.com/wp-content/uploads/2016/04/logo2.png
Chris Silverthorne
2018-03-26 13:18:38
2018-03-26 13:18:38
Smith, Edna